On Spotlight: Luisa in Quebec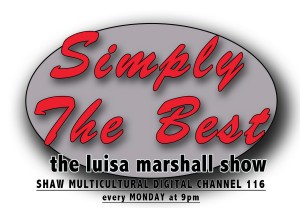 Simply the Best – The Luisa Marshall Show
Every Monday at 10:30am & 9:00pm primetime
On SMC Shaw Multicultural Channel 116
ALL NEW – Simply the Best – The Luisa Marshall Show:
Airs on Monday, Feb 6, 2017 at 10:30am & 9:00pm on SMC
On the Show:
Highlights of Luisa's trip to Quebec; Downtown Old Montreal, Basilique Notre Dame, History of Montreal, Arts Museum, Festivals, Entertainment and much more.
A glimpse of the history of Montreal projected on buildings, trees, and cobblestone streets through out downtown Old Montreal.
ALL NEW Simply the Best Season 8!
ON SPOTLIGHT! Exploring 2 colourful cities in Quebec: Old Montreal and Old Quebec City. During our TINA Canada-wide Hope Beyond Thunderdome 2016 tour, our family performed all the way from Vancouver to Ontario, Newfoundland, New Brunswick, Nova Scotia and Prince Edward Island. On our break, we decided to drop by and we quickly explored Quebec. It's so fun!
Quebec is Canada's largest province and have a predominantly French speaking population. It is also a favourite tourist destination.
Watch the special highlights!  We'll take y'all to the best destinations.
Photos
"I'll be a Quebecker-Canadian. I'm from Quebec, and every time I go to a country, I say that. It's my roots, my origins, and it's the most important thing to me."

– Celine Dion
Simply the Best – The Luisa Marshall Show
Season 8 – Episode 10
On Spotlight: Luisa in Quebec
Previous Episode: ON SPOTLIGHT: Beauty and the Beast, A New Musical & Super Throwback: Highlights of TINA, A Rock N Roll Journey
Next Episode: Get Inspired: 25th Anniversary Royal City Sister City Society