ON SPOTLIGHT: Beauty and the Beast, A New Musical & Super Throwback: Highlights of TINA, A Rock N Roll Journey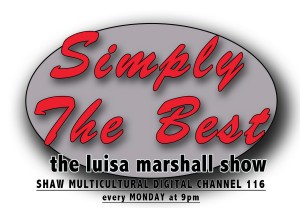 Simply the Best – The Luisa Marshall Show
Every Monday at 10:30am & 9:00pm primetime
On SMC Shaw Multicultural Channel 116
ALL NEW – Simply the Best – The Luisa Marshall Show:
Airs on Monday, Jan 30, 2017 at 10:30am & 9:00pm on SMC
On the Show:
ON SPOTLIGHT: Highlights of Beauty and the Beast, A NEW MUSICAL by James MacDonald.
SUPER THROWBACK: Highlights of TINA, A Rock N Roll Journey.
ALL NEW Simply the Best Season 8! Starting 2017 with a BANG!
This episode is all about entertainment, entertainment, entertainment! Rainforest Theatre proudly showcased 5 young talents at the Burnaby Village Museum's Brookfield Hall. My daughter, Zenia Marshall, played the role of Belle in "Beauty and the Beast – the New Musical", by James MacDonald. It's a modern musical that has comedy and popular music.
I'm proud to have been a part of a big production that toured in Canada and the US with the groundbreaking stage musical of the life of Rock n Roll legend Tina Turner 8 years ago. TINA, A Rock N Roll Journey, written and directed by Leandro Mendez garnered rave reviews, standing ovations.
Photos
"I want adventure in the great wide somewhere. I want it more than I can tell. And for once it might be grand to have someone understand. I want so much more than they've got planned."

– Belle, Beauty and the Beast
Simply the Best – The Luisa Marshall Show
Season 8 – Episode 09
ON SPOTLIGHT: Beauty and the Beast, A New Musical & Super Throwback: Highlights of TINA, A Rock N Roll Journey
Previous Episode: Get Involved: Mable Elmore & On Spotlight: AMP
Next Episode: On Spotlight: Luisa in Quebec