Meeting Kababayans in Grand Prairie, Alberta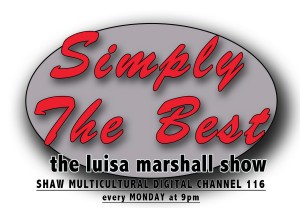 Simply the Best – The Luisa Marshall Show
Every Monday at 10:30am & 9:00pm primetime
On SMC Shaw Multicultural Channel 116
ALL NEW – Simply the Best – The Luisa Marshall Show:
Airs on Monday, May 1, 2017 at 10:30am & 9:00pm on SMC
On the Show:
Interview with Jib Potot and Leah Fujarczuk of "Jib, Leah at iba pa" TV show.
A casual conversation with a temporary foreign worker, Jessie Camitan.
Highlights of "Lots of Love Tour" in Grand Prairie and White Court, Alberta.
ALL NEW Simply the Best Season 8!
GET INSPIRED: Meeting Kababayans in Grand Prairie.
Simply the Best moments in Alberta!!! We are back spreading more inspiration today. We're taking you all to Grand Prairie in Alberta to meet our new friends Jib and Leah. They're fun, hard working, patient and passionate! They're Kababayans daring to live the dream. Plus special highlights of our shows in Grand Prairie and White Court!
There are over 5,000 Filipinos living in Grand Prairie. We went to the mall and we met some Kababayans working there.
Photos
"We have all known the long loneliness, and we have found that the answer is community.

– Dorothy Day
Simply the Best – The Luisa Marshall Show
Season 8 – Episode 14
Meeting Kababayans in Grand Prairie, Alberta
Previous Episode: Meeting Kababayans in Stephenville, Newfoundland
Next Episode: 2017 Filipino Festivals