Meeting Kababayans in Stephenville, Newfoundland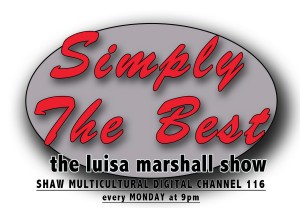 Simply the Best – The Luisa Marshall Show
Every Monday at 10:30am & 9:00pm primetime
On SMC Shaw Multicultural Channel 116
ALL NEW – Simply the Best – The Luisa Marshall Show:
Airs on Monday, April 3, 2017 at 10:30am & 9:00pm on SMC
On the Show:
Interview with Enie Morales.
Highlights of Meeting More Kababayans.
Plus special highlights of our show at the Stephenville Legion with retired military Ray Hull.
ALL NEW Simply the Best Season 8!
GET INSPIRED: Meeting Kababayans in Stephenville, Newfoundland. We met Enie Morales and her family and friends during our tour in 2016. Enie shared her story of challenges and disappointments living and working in Canada. Enie didn't see her children for 14 years. She worked many hours in Canada to send money to support her children back in the Philippines. Although she was grateful to live in Canada, she felt that she regretted all those years that she wasn't able to spend time to care for her children. She's finally reunited with her daughters!
Photos
"The pain is not on the day of missing our dear ones. The pain is really when you live without them and with their presence in mind."

– Unknown
Simply the Best – The Luisa Marshall Show
Season 8 – Episode 13
Meeting Kababayans in Stephenville, Newfoundland
Previous Episode: Get Inspired: SPIDS for Surrey Cares and Kubyertos Customer Appreciation Day
Next Episode: Meeting Kababayans in Grand Prairie, Alberta