2017 Filipino Festivals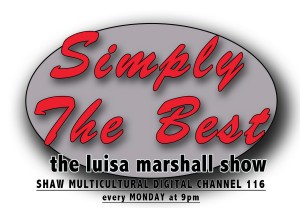 Simply the Best – The Luisa Marshall Show
Every Monday at 10:30am & 9:00pm primetime
On SMC Shaw Multicultural Channel 116
ALL NEW – Simply the Best – The Luisa Marshall Show:
Airs on Monday, July 17, 2017 at 10:30am & 9:00pm on SMC
On the Show:
Simply The Best moments in Surrey and New Westminster!!!
More special highlights, entertainment, and inspirational speeches.
ALL NEW Simply the Best Season 8!
GET INSPIRED: Celebrating Philippine Independence Day!
A colourful celebration of a historical event through culture, tradition and patriotism! Filipinos are the 3rd largest ethnic group in British Columbia and there are thousands of Filipinos living in Metro Vancouver. With the growing population, there are several groups and organizations that celebrate Philippine Independence Day. Sometimes it gets to be overwhelming. However, we're happy to join SPIDS Surrey Philippine Independence Day Society and the New Westminster's Royal City Sister City Society festivals.
"Matibay ang walis, palibhasa'y magkabigkis."
A broom is sturdy because its strands are tightly bound.

– Filipino Proverb
Photos
Simply the Best – The Luisa Marshall Show
Season 8 – Episode 15
2017 Filipino Festivals
Previous Episode: Meeting Kababayans in Grand Prairie, Alberta
Next Episode: Flor Marcelino: Top 25 Canadian Immigrant 2017