Flor Marcelino: Top 25 Canadian Immigrant 2017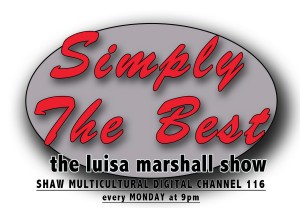 Simply the Best – The Luisa Marshall Show
Every Monday at 10:30am & 9:00pm primetime
On SMC Shaw Multicultural Channel 116
ALL NEW – Simply the Best – The Luisa Marshall Show:
Airs on Monday, July 31, 2017 at 10:30am & 9:00pm on SMC
On the Show:
Special highlights of Vancouver's Top 25 Canadian Immigrant awards.
Special interview with MLA Flor Marcelino – Winnipeg, Manitoba, and Top 25 Canadian Immigrant 2017.
ALL NEW Simply the Best Season 8!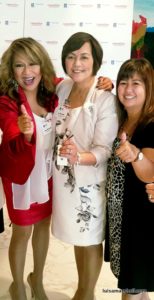 GET INSPIRED: Celebrating Canada's 150th. Every year, Canadian Immigrant Magazine with the support of RBC – Royal Bank of Canada, honours 25 men and women of different ethnicities to become RBC's Top 25 Canadian Immigrants. We are proud to share our Simply The Best moments at the West Coast Top 25 Canadian Immigrant Awards Night… a proud celebration of successful immigrants living remarkable lives by pursuing their dreams, giving back to Canada and becoming role models for other newcomers.
Flor Marcelino is one of the Top 25 Canadian Immigrants 2017. She is the first racialized woman ever elected to the Manitoba Legislative and the first person of ethnic background to be given a cabinet position. We met in Winnipeg last year during my tour and now we're happy to see Flor here in Vancouver.
There have been 13 Top 25 Canadian Immigrants awardees of Filipino heritage.
Rafael Fabregas – Fair Lawyer – Toronto – 2010
Narima dela Cruz – Giving Back – Surrey – 2012
Dr. Rey Pagtakhan – Filipino Runner – Winnipeg – 2012
Leticia LaRosa – Community Volunteer – P.E.I. – 2013
Luisa Marshall – Performer/TV Host – Vancouver – 2013
Alberto Rodil – Immigrant Seniors Settlement Worker – Toronto – 2014
Anna Wolak – Family Physician – Vancouver – 2014
Ver Cruz – Determined Educator – Toronto – 2015
Maria Nieves Santos-Greaves – Sound of Success – Surrey
Perla Javate – Community Connector – Winnipeg – 2016
Renan Orquiza – Engineer with Influence – Mississauga – 2016
Agnes P. Miranda – Filipina Pioneer – Toronto – 2017
Florfina Marcelino – Rising up to lead – Winnipeg – 2017
"Boldness isn't something you're born with; you either choose it or you don't."


– Mike Yaconelli
Photos
Simply the Best – The Luisa Marshall Show
Season 8 – Episode 16
Flor Marcelino: Top 25 Canadian Immigrant 2017
Previous Episode: 2017 Filipino Festivals
Next Episode: Ellecer Carlos campaigns to stop Philippines' "War on Drugs" Extrajudicial Killings