Ellecer Carlos campaigns to stop Philippines' "War on Drugs" Extrajudicial Killings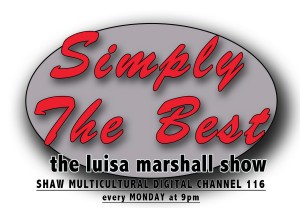 Simply the Best – The Luisa Marshall Show
Every Monday at 10:30am & 9:00pm primetime
On SMC Shaw Multicultural Channel 116
ALL NEW – Simply the Best – The Luisa Marshall Show:
Airs on Monday, August 28, 2017 at 10:30am & 9:00pm on SMC
On the Show:
Special interview with Ellecer Carlos.
ALL NEW Simply the Best Season 8!
Get Involved: Human rights advocate Ellecer Carlos campaigns to stop the Philippines' "War on Drugs" and Extrajudicial Killings.
In Defense of Human Rights and Dignity Movement – iDEFEND spokesperson and human rights advocate Ellecer Carlos relentlessly and continuously campaigns all over the world to stop the extrajudicial and inhumane killings of suspected drug dealers and users in an effort to clean up drugs and crime in the Philippines as promised by President Duterte. The President attacked human rights advocates for criticizing his bloody war on drugs and warns he'll order shootings of human rights advocates which drew criticism from the Human Rights Watch.
A Human rights activist for over 20 years, Ellecer Carlos also spoke in a forum initiated by Vancouver resident Treenee Lopez.
"Injustice anywhere is a threat to justice everywhere."


– Martin Luther King, African-American civil rights activist
Photos
8.17 Ellecer Carlos campaigns to stop Philippines' "War on Drugs" Extrajudicial Killings
Simply the Best – The Luisa Marshall Show
Season 8 – Episode 17
Ellecer Carlos campaigns to stop Philippines' "War on Drugs" Extrajudicial Killings
Previous Episode: Flor Marcelino: Top 25 Canadian Immigrant 2017
Next Episode: Coming Soon…