Get Involved: Hector Bremner
& Get Inspired: USTAABC 31st Alumni Night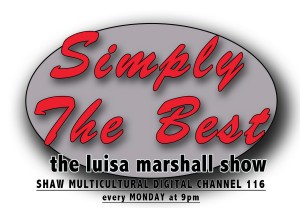 Simply the Best – The Luisa Marshall Show
Every Monday at 10:30am & 9:00pm primetime
On SMC Shaw Multicultural Channel 116
ALL NEW – Simply the Best – The Luisa Marshall Show:
Airs on Monday, December 18, 2017 at 10:30am & 9:00pm on SMC
Digital Cable Channel 

116 – Vancouver, BC

Analog Cable Channel 51 – Delta, BC

Cable Channel 89 – Calgary, AB
On the Show:
Special interview of Councillor Hector Bremner.
Highlights of Councillor Bremner speech.
Highlights of the USTAABC 31st Alumni Night, Outstanding Tomasinos, New officers.
ALL NEW – SIMPLY THE BEST Season 9!
Congratulations to Hector Bremner, the newest city councillor of Vancouver. We caught up with Councillor Bremner during a luncheon where he announced his plans on housing affordability in Vancouver, a major concern of many Vancouverites. In a speech, he challenges Vision Vancouver's inability to tackle the concerns of the most vulnerable people living in Vancouver.
I attended the 31st Alumni Night of USTAABC – University of Santo Thomas Alumni Association of BC. I was proud and honoured to be recognized by fellow Thomasians as "Outstanding Tomasino in Media and Entertainment".
A Super SHOUT OUT to USTAABC couple: past president Terence Figueroa and his wife / former secretary Connie Mayo Figueroa for keeping the Tomasino spirit alive. Congratulations to the new officers and to my fellow Tomasino awardees.
"Life's most persistent and argument question is, what are you doing for others?"


– Martin Luther King, Jr.
Photos
Simply the Best – The Luisa Marshall Show
Season 9 – Episode 7
Get Involved: Hector Bremner & Get Inspired: USTAABC 31st Alumni Night
Previous Episode: Get Inspired: Songs with Purpose
Next Episode: Coming Soon…