Experience the Vancouver Chinese Lantern Festival & Meet and Greet with Dianne Watts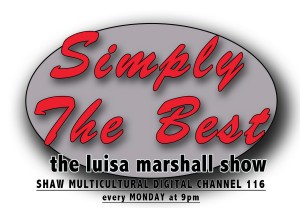 Simply the Best – The Luisa Marshall Show
Every Monday at 10:30am & 9:00pm primetime & Sunday at 10:30pm
on Shaw TV
ALL NEW – Simply the Best – The Luisa Marshall Show:
Airs on Monday, January 29, 2018 at 10:30am & 9:00pm on SMC
Channel 4

 – Vancouver, BC

Channel 89 – Calgary, AB
On the Show:
Special Highlights from the Chinese Lantern Festival.
Special Highlights: Meet and Greet with Dianne Watts and the Filipino community.
ALL NEW – SIMPLY THE BEST Season 9!
ON SPOTLIGHT
Experience Vancouver in a new colourful electrifying light. A 5-week celebration of Chinese culture. It features 35 unique and colourful illuminated displays that transforms Hastings Park into a magical kingdom of lights. The Vancouver Chinese Lantern Festival showcased at the PNE. Besides the amazing display of lanterns, there were food trucks, storytelling, a marketplace, hot chocolate and enjoyable Chinese cultural entertainment for everyone. We are so excited to take you all to an exciting and magical place in Vancouver. It's a real WOW! The 200-foot long Dragon, Porcelain Tower Pagoda constructed from 100,000 porcelain china dishes, and Kylin in Delight made from 31,000 small bottles of coloured water.
GET INVOLVED!
Community Leader Narima Dela Cruz hosted a Meet and Greet with an inspirational woman – Dianne Watts. Former Surrey mayor and Member of Parliament, Dianne is reconnecting with communities across BC and calling out to everyone to be engaged and involved in the political decision of British Columbia.
"A bird does not sing because it has an answer. It sings because it has a song"


– Chinese Proverb
Photos
Simply the Best – The Luisa Marshall Show
Season 9 – Episode 8
Experience The Vancouver Chinese Lantern Festival & Meet and Greet with Dianne Watts
Previous Episode: Get Involved: Hector Bremner & Get Inspired: USTAABC 31st Alumni Night
Next Episode: Get Inspired: My Filipino Connection in Edmonton & Community News: FABC Induction of Officers and Directors 2018