Get Inspired: My Filipino Connection in Edmonton & Community News: FABC Induction of Officers and Directors 2018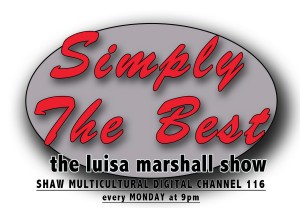 Simply the Best – The Luisa Marshall Show
Every Monday at 10:30am & 9:00pm primetime & Sunday at 10:30pm
on SMC
ALL NEW – Simply the Best – The Luisa Marshall Show:
Airs on Monday, February 12, 2018 at 10:30am & 9:00pm on SMC
Channel 4

 – Vancouver, BC

Channel 89 – Calgary, AB
On the Show:
Super highlights of my TINA Tribute show produced by Brenda Kaminsky – Kaminsky Entertainment Limited and friends.
Show and Tell: Tambayan Ni Kabayan restaurant, bakery and store in Edmonton.
Special highlights of FABC Induction Night of Officers and Directors.
ALL NEW – SIMPLY THE BEST Season 9!
GET INSPIRED!
My Filipino Connection! We are taking you all again to an exciting journey to Edmonton, Alberta. Plus a funtastic show for our Kababayans and friends.
We also visited our friends in Tambayan Ni Kabayan which means a "cool place where Kababayans hang around"!
Super shout out to our kababayans in Edmonton. They were super nice and hospitable.
Tambayan Ni Kabayan – Eastwood Edmonton is a Filipino bakery, restaurant, and store that opened in Edmonton to serve the Filipinos and others who crave for goodies like ensaymada and pandesal and simple yummy Filipino food. This is a life long dream by a group of young Filipino entrepreneur.
GET INVOLVED!
Happy to be part of the the successful Induction of Officers and Directors of the oldest Filipino association in BC – Filipino Association in British Columbia. Shout out to Treenee Lopez and her team.
"We are like islands in the sea, separate on the surface but connected in the deep."


– William James
Photos
Simply the Best – The Luisa Marshall Show
Season 9 – Episode 9
Get Inspired: My Filipino Connection in Edmonton & Community News: FABC Induction of Officers and Directors 2018
Previous Episode: Experience The Vancouver Chinese Lantern Festival & Meet and Greet with Dianne Watts
Next Episode: Dinosaur Capital of the World – Drumheller