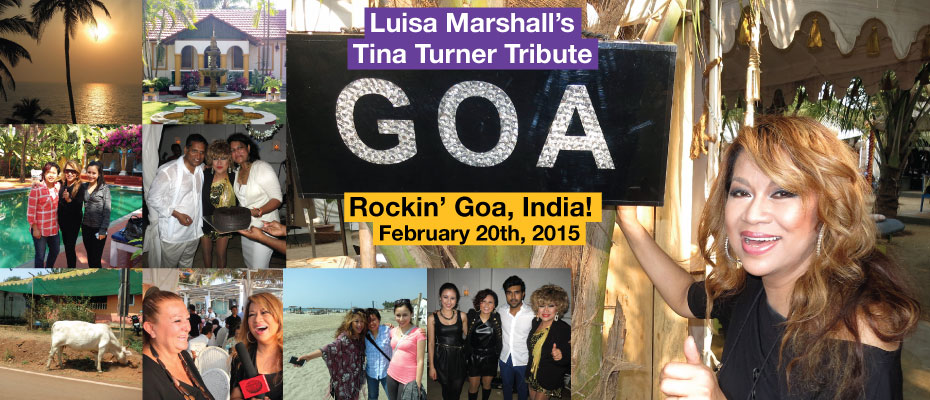 Luisa Marshall's Tina Turner Tribute
ROCKS GOA, INDIA!
ROCKIN' SHOW IN GOA! My TINA Turner Tribute Family band was invited by India's Apollo Hospitals heiress Upasna Kamineni to perform as a surprise for her parents 30th Wedding Anniversary.
The executive director & executive vice chairperson of the 3rd largest private hospital chain in the world, Apollo Hospital, Shobana Kamineni and her husband Anil were blown away by our performance. My Tina Turner tribute show was a big surprise gift from Anil and Shobana's daughter, Upasna, because Shobana is one of the biggest Tina Turner fans in India.
60 invited guests flew in from all over the world to celebrate at the famous Greek Restaurant Thalassa, known not only for its delicious food but also for its stunning view off a cliff overlooking the Vagator beach and Indian Ocean. Among the special guests was Upasna's husband, Bollywood megastar Ram Charan, whose surprising candid hospitality made our trip pretty cool. With Greek food and wine overflowing, everyone had a BLAST! Unbelievably, the party simply rocked and rolled while the over enthusiastic guests danced and sang along to all the Tina Turner hits.
I spent time for some pics and selfies with everybody after the show.  The excitement was all over popular Thalassa Greek Restaurant.  But sadly, the venue had to close and the party moved to the very posh Marbela Beach Resort. Jet lag and tired, we chose to chill and stayed for some wine with Thalassa's owner Mariketty Grana. The next day we just had to come back and interview the successful and most interesting personality in Goa, Mariketty. Mariketty is one hardworking woman. She started with just one grill selling kebabs on her own on the streets of Goa and now she is the proud owner of the famous Thalassa Greek Restaurant with over 40 employees.
I was so honoured for this rare opportunity to visit India's richest state Goa. In a short period of time, my family learned a lot about the country just by meeting and talking to new friends, cab drivers, waiters, hotel staff and, most especially, our patient tour guide and friend Deepak Sheshadri.  It was always an interesting (and scary) experience whenever we were travelling on the crazy and narrow roads of Goa (at least by Canadian standards) which also had traffic moving on the left-hand side. I felt my blood pressure shooting up high every time we were on the road because it felt like a big car chase scene ala Bourne Supremacy but in cabs that seldom had seatbelts. It was a crazy mix of vehicles, people on bikes, pedestrians on the very, very narrow roads (didn't really see any sidewalks), lots of skinny stray dogs in the middle of the street, and not to forget the lean HOLY COWS chillin' and wandering wherever they please. OH! That weekend also held the biggest Harley Davidson Bike Convention just 3 minutes away from our 4-star beautiful boutique hotel Casa Anjuna.
The trip to the biggest Saturday Night Market in Arpora was interesting; Noisy, colorful and crowded with mostly tourists who were enjoying the local band with food and beer in their hands. Walking around with flip flops for more than two hours was just a bit much for me. But I was set to find something uniquely Goan to bring back for friends and family. After much bargaining and searching, we were happy to get some sparkly Goa pens.
Although we were aware of the dark side of Goa, we admired the music and football culture, pristine beaches, tasty food and carefree people.
Despite numerous itchy mosquito bites, terrifying cab rides, being overly cautious, fighting jet lag, annoying long flights and inconsistent wifi access… we really appreciated being given the opportunity come to Goa, India. We admired the music and football culture, pristine beaches, tasty food and carefree people. Our Goa experience may not have been perfect but it was simply UNFORGETTABLE!
Luisa's Blog
DAY 1 – Travel
Excited to fly to GOA, INDIA!  Left YVR at 6pm for a 9 hour and 15 minute flight to Heathrow Airport in London.  We all watched Big Hero 6 on our small screens.  Our arrival was delayed 45 minutes so we were whisked into a bus waiting for passengers with connecting flights to Mumbai and New Delhi.  Chaotic and confusing.  We were not sure which gate to catch our connecting flight to Mumbai.  And yes, already keeping an eye on my little one Zenia.
YES! We made it and caught our flight!  We boarded Air India for our 9 hour flight to Mumbai.  A big difference in service as we got snacks and drinks immediately.  We were excited to find out what food they would serve us…
My daughter Kimi was happy to finally eat as Air India offered vegetarian dishes (the last flight only had the option of chicken and roast lamb).  Air India's food was very tasty.  I tried the Indian dessert Gulab Jamun.  There's also a fresh fruit mix.
We spent most of the flight trying to get some much needed rest.
DAY 2 – Arrival in GOA!
Our flight to Goa was very much delayed. They served us a vegetarian sandwich and mango juice. We felt the flight was pretty sweet.  Just 1 hour.  Maybe I had a little nap…  I don't remember.  Haha. All I knew was I was very, very tired.
Big announcement after touchdown to not use electronic devices until the plane has come to a complete stop.  So disappointed… there goes my chance to take a quick shot of Goa!  Then another announcement…  "taking pictures and video at the Goa airport is prohibited."  Extreme exhaustion kickin' while at the immigration filling up forms that were supposed to be given on the plane. This time Grouch was creeping in.  We proceeded to the friendliest looking immigration officer as we tried to smile and not look so exhausted after 22h of travel.
Now starting to be more alert of our surroundings at the airport and hmmm… Goa Airport is not as fancy as Mumbai's.  Now I understand why taking pictures and videos are not allowed. LOL!  Just kidding.
We met Deepak Seshadri who was waiting for us to take us to our hotel.  Our new bff Deepak looked a little distressed at first… the taxis he arranged earlier didn't show up.  But he managed to get a new one instead and we started cruising down the narrow roads of Goa in 3 vehicles.
So disheartening to see slummish looking areas.  Every so often there would be a row of big houses, mansions and some businesses.  Motor bikes swarmed the road like they owned it.  We were all amused and laughing while we followed the small van with all our luggage.  Zenia's big luggage ended up on the roof rack and we were watching and wondering if it would fall off since it wasn't strapped down on the bumpy and windy roads. We also realized we were drivin' on the wrong side of the road and our driver was just goin' too fast.  There was some kind of road rage when some guys on bikes got mad at our driver.  It was a very scary 30 minutes from the airport as our driver weaved in and out of traffic.
What made the ride less stressful was seeing the Holy Cows!  I've seen pictures of cows roaming India streets, but to see it in person was wild!
Reached our destination… booked at Casa Anjuna, a big mansion built during the Portuguese colonization of Goa.  We were staying in a building with adjoining rooms across the main house.  I was so relieved that the girls were staying with us in one unit.  We checked out our rooms while our new friend Deepak and Steve discussed soundcheck and tech requirements.
After 26 hours of travelling I finally get to rest.  I showered and slept like a baby. Deepak and a taxi came to pick us up for soundcheck.  On the way to the venue… we encountered many bikers on the road.  We were told that there was a huge outdoor event for the Harley Davidson Convention! Harleys EVERYWHERE!  It was a quick 10 minute ride to Thalassa which is a neat looking and very chic Greek restaurant by the beach.  What a view!  The venue was packed with mostly tourists (including us – haha).
Dinner at Thalassa's was awesome!  We all enjoyed what we ordered.  Vegetarian dishes were unreal.  After our dinner, we met Upasna for the first time.  We discussed some details about her parents 30th Wedding Anniversary party and she invited us over to have lunch at Marbela Beach the next day.
So tired and feelin' my head exploding, I couldn't wait to go back to Casa Anjuna to just rest.  Jet lag kickin' in.  Just about to sleep when suddenly I heard a dog howl.  It howled loudly four times then a loud chorus of dogs barked for maybe 30 minutes.  I was so tired and annoyed…  but then suddenly, complete silence.  Creepy… BUT glad I could finally sleep.
DAY 3 – SHOW DAY!
Work day Friday. Scared to go anywhere just incase we'd get lost or something because we had a job to do. We were just a little concerned about possible allergies so we were so careful about foreign dishes. No matter how good the food looked we decided we'd wait until after the show.
Deepak brought us to the popular Marbela Beach to meet Upasna for lunch.  We also met her megastar Bollywood husband Ram Charan. Both of them were so real and down-to-earth. They treated us to a nice lunch and fun conversation.
From Marbela Beach, we went straight to Thalassa.  Eager to have a little sound check… always worried on what our tech rider would bring us this time.  Unable to do soundcheck because the venue was PACKED with people in the afternoon.
Not to waste anytime, we hurriedly went back to our amazing suites at Casa Anjuna. The style of architecture, design and themes were a sweet mixture of Goa's rich culture spanning from Brazil, Portugal and Indian Hindu.  Had a little rest while the girls and Steve took a long nap. Took my time getting ready and breathing heavily to get rid of stress.  Mentally preparing myself for something beyond my control.  Worried about the technical aspects of the show since we weren't able to do a proper soundcheck.
The show was a surprise gift to Upasna's parents Anil & Shobana Kamineni 30th wedding anniversary.  Her mother's favourite singer happens to be Tina Turner.  When I came out with "Simply the Best", the whole place went CRAZY! I sang to the happy couple and their important guests and the rest was history.  The party was pretty wild.  Amazing how they all sang with me.  They knew the words to each and every one of Tina's hits.  But the best part…  my daughters Kimi (guitarist) and Zenia (vocals) performed with me with so much fun & professionalism.  And with Steve's magic… we sounded just perfect!
YES, one hour of TINA and other cover songs performed by Zenia made the party just fabulous.  Some of the guests took turns dancing and singing the whole time. It was non stop!
Spent some time for pics and selfies with everybody after the show.  The excitement was all throughout the Thalassa Greek Restaurant.  All great things must end… so sadly, the venue had to close and wrap up for the night. But the party kept rockin' and moved to Marbela Beach.
We were supposed to head on over to Marbela Beach but didn't quite make it. We ended up staying at Thalassa and losing all track of time while we had wine and laughed and shared stories with Thalassa's amazing owner Mariketty.
DAY 4 – Relaxing
With the show completed and a job well done we were finally ready to really go and explore GOA!  Well… we tried as best we could since we were all feelin' tired, jetlagged and the girls were suffering from mosquito bites from the night before.
We went back to Thalassa to interview Mariketty for Simply the Best TV show.  She was awesome!  Then we stayed and experienced the best sunset ever in GOA, India. The food at Thalassa was extra special… we highly recommend this restaurant.  Not to forget the staff… they're all fantabulous!
We decided later on to check out the Saturday Night Market. I felt a little better with our friend Deepak driving us.  It was a busy Saturday evening in the streets of Goa leading to the markets.  We were told that there were 3 night markets! So we decided to go to the biggest one.  Walking around the market was an interesting experience.  There were thousands of people, tourists, Goans, vendors, etc. Lots of interesting things! After 2 hours walking around, we finally went back to Casa Anjuna with sparkling Goa pens. Zenia picked out a silver necklace with a small elephant pendant. That's all we got! How pathetic is that? Haha. I guess there were just so many choices that we were so overwhelmed.
DAY 5 – MORE Relaxing
BEAUTIFUL SUNDAY.  We went back to Marbela Beach to take more pictures. Very nice weather.  Then dropped by La Plage, a French restaurant, to chill.  Great ambiance, awesome dessert!  Beautiful beachfront! What a view!  I really like it.
Our good friend Deepak decided to take us to the downtown side of Goa to witness the nightlife on a Sunday night. WOH, pretty busy! But we whooshed through the busy street straight to the Taj Hotel to eat at the fancy restaurant. Finally! You just know I had to order the famous Butter Chicken in India. It was exceptional!  So delicious!
After a relaxing dinner… we looked for a pharmacy to get some medicine for the girls mosquito bites. Guess what? Dream come true… when we stopped at a pharmacy, there were over a dozen sacred cows in the parking lot. Just chillin'.  My chance to get a SELFIE with the Holy Cows. Luvin' it!
DAY 6 – Home Time
MONDAY Takin' It Easy.  Packin' the whole time to make sure we were almost ready to leave.  So anxious to leave now… especially with the girls getting allergic reaction from the mosquito bites. I was pretty torn.  We just stayed at the Casa, ate breakfast and late lunch made by the beautiful kitchen staff. Felt so good, felt like we had a personal chef cooking anything we wanted on the menu. And the best part was they made it extra special.  The good service, delicious food, and warm hospitality just really added more to our GOA experience.  Also, my chat with our friend Deepak on life in GOA was so enlightening!
Finally, hoppin' on the cab to the airport at 6:30pm. It was just a web of airports, checkin' in, goin' through security, tryin' to relax, boardin' the plane, watchin' movies, eatin' interesting Indian food, fallin' asleep, feelin' worried during turbulence, lookin' at the time, dreadin' to make a trip to the toilet, etc. The worst part was an 8 hour stopover in Mumbai.  8 hours is just too long! Haha.
Then next a 3 hour stop in London… which shouldn't have been so bad but my daughter Kimi was treated very terribly by a worker for Air Canada at the Heathrow Airport. When she inquired about whether there would be a vegetarian option on board the 9h flight, the staff member was absolutely rude. He told her that Air Canada doesn't have a vegetarian option on board but if she was ready to eat food she could. He said it was her choice that she would be starving since she chose not to eat meat. He told her that if a vegetarian option is what she wanted then she shouldn't fly Air Canada. He even added that she shouldn't fly at all since all the other airlines don't have vegetarian options. My daughter told the guy that wasn't true since we just got off 2 Air India flights and they had vegetarian options for every meal, but the guy just told her "that's because they're Indian." Is this guy for real?! I was happy that my daughter just kept her cool and walked away. She felt bad though and told me that she never ever was treated that way because of her choice not to eat meat.
Lucky for Kimi though they DID have a vegetarian option on this particular Air Canada flight. So Kevin, the rude Air Canada employee was completely wrong.
Another 9 hour flight to get home. We felt relieved when we landed at YVR! WIFI! YES! Home sweet home!
What an experience we will always remember the rest of our lives. I feel so blessed that I was given this opportunity to visit Goa, India. Not just that, but to visit India with my family. I'm so thankful that my Tina Turner Tribute has given me a chance to explore the world and perform for some amazing people.