ELLEN Experience
UNBELIEVABLE WEDNESDAY!
Suddenly, we ended up in LA after a phone call Wednesday at 1PM. Everything was a big blur… only had 1 hour to get ready and pack. OH MY! My world spinnin'! Scrambled to the airport… literally. What to pack first… costumes, toothbrushes, shoes, wig, make-up, oh my, where's my charger? Thus is quite insanely stressful. All know is I'm packing light. I kept telling myself "breathe, breathe, breathe…"
Made it on time at the West Jet counter. Plane took off at 4:25PM.
Got to the airport at 2:25pm to catch our 4:25pm flight to LA. I was thinkin' in my head what I forgot. I knew I packed all the important ones in my carry-on. Now I could breathe! Haha!
Had dinner with family at a popular LA hub called POT. The food was a bit unusual but it was good. After dinner, we decided to check in our hotel to finally settle down and rest a bit. I tried to go to sleep early so there wouldn't be walloping eye bags the next day. HA! I was too excited and too tired to sleep!
THURSDAY – ELLEN SHOW TAPING
11AM call time, Warner Brother at Burbank, California. Lucky that we were just 2 minutes away from Warner Brothers so the ride was very, very quick. We followed all instructions on the process of getting through security and all. Finally, we're outside the big door Stage 3. Guessed we were a bit early for the 11AM call time. But we didn't want to be late so we baked quite a bit for 10 minutes outside the 100 degrees heat.
There were obvious production crew waiting for us… telling us where to go and what to do. There were many people walking around near the green room where they asked us to sit. We were offered food, drinks, coffee, tea, etc. many times. I couldn't eat. My stomach was pretty empty but I didn't want to eat anything that might upset my tummy and ruin my day. Everybody was super nice, everybody was smilin' and sayin' hi! Took sometime takin' selfies backstage
We met some actors that would play the band of Huey Lewis, the News. They were pretty fun guys and they immediately greeted me with "Hi Tina!" Okay they knew why I was there. That was a good sign. We met our handler Amy. She was young and sweet. Very professional and very accommodating. She kept apologizing that our dressing room isn't ready yet. There were 2 tapings simultaneously that afternoon. Suddenly, I was whisked to the Hair and Make-up Room. Met another sweet girl Elizabeth who was raving about my Tina wig. She said it was perfect and iconic. Then she also checked my gold sequinned TINA inspired dress for the taping.
The backstage director called all of us inside Ellen's studio to rehearse. We were led into the big beautiful studio that I could only watch on television. Wow! So cool and impressive. I was stunned and still at this point… myself and the News didn't have any idea of what we were supposed to do. Amy kinda read and showed a bit of the script of my segment and I said that was easy. No singing, just dance like Tina, act like Tina. But already resigned to the fact that 'whatever it is, I'll just go with the flow and enjoy the moment'. Thinking out loud… I'LL SEE ELLEN ANYWAY! I'm a huge fan for many years now.
Rehearsed the whole sequence of the monologue with stand ins of Selena Gomez, Nick Carter, Carrot Top, Ted Lange, Bob Harper and some other familiar names. Even Steve became a stand in. That's the closest he could get to Ellen. LOL! Lost track of time but rehearsed for maybe an hour or so.
Now I was led to the dressing room for a complete transformation to my TINA persona. They were all pleased and approved my look. Now… all we had to do was wait.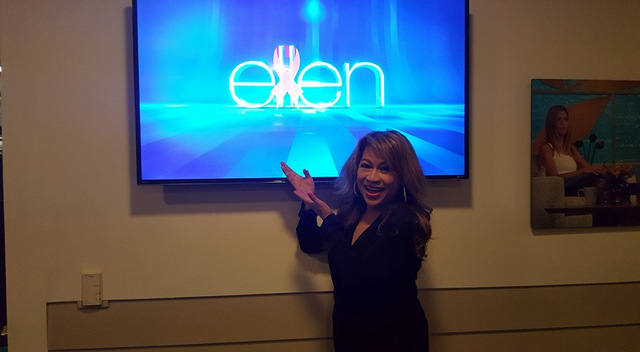 FINALLY, we were getting frantic calls from several crew for us to go down and move to the backstage area. There were many people backstage… and I didn't recognize anyone. Silently, I inhaled deeply and exhaled to calm my nerves as I heard Ellen's voice starting her monologue then I could hear the audience loud cheers and applause that I could almost see their excitement. We were asked to move to a different line to join some other people like Carrot Top and others. Yes, this is going to be a different experience. Ellen introduced her Squad… the cast of Fuller House's D.J. (Candace Cameron Bure), Stephanie (Jodie Sweetin') and Kimmy (Andrea Barber). I could hear the crowd cheers. Then she called Carrot Top… then more cheers. I knew it was my turn to be called by Ellen. I read the script but to my surprise she introduced me as TINA TURNER. I froze for a second while the stage director whisked me out. Quickly, I had to compose myself while the audience jumped up to give me, well, not me, but TINA, a standing ovation. Ellen and I did a quick Proud Mary dance routine. The crowd went wild. Then all the rest of the Squad was called including Selena Gomez. She turned around and acknowledged me and held my hand. Then everything syncopated into a Squad Dance. Haha! That was fun!
Backstage after the SQUAD SEGMENT
We could see how the audience and the crew reacted to the successful monologue. It was awesome! Everybody had a good time. But I started to get a little uncomfortable when some people thought I was the real Tina Turner. I don't know if Carrot Top knew when he said "You looked awesome!"  The excited Selena Gomez wanted to have selfies with me. She was so sweet.
Left Warner Brothers studio with a big smile on my face!
ELLEN SHOW ON FRIDAY
I'M WALKING ON SUNSHINE IN L.A.! The Ellen Squad clip has been aired on ELLEN Show on FRIDAY, Oct. 9th/2015. Still feelin' stoked from this unforgettable moment! Being invited to Ellen's show and this clip that's garnering many views now from hours ago is just simply amazing. Excited friends, fans, supporters and associates from all over calling, texting, commenting and private messaging on FB to congratulate me was overwhelming! I'm a super fan of Ellen and been following her for a long time now… She's been my inspiration. All I can say, thank you so much and I'm honoured to be a part of Ellen's Squad with real artists like Selena Gomez, Nick Carter, Carrot Top, etc. WOW! I still couldn't believe Ellen invited my TINA and I did it, I brought the house down! Nothing can top top top this super amazing highlight of my tribute career without even singing! Haha!
CELEBRATING MY ELLEN SPECIAL APPEARANCE in LA FRIDAY NIGHT
I was happy celebrating with good friends from Hollywood Foreign Press Association, husband and wife Ruben and Janet Nepales at the Official Screening & Dinner Reception for SPOTLIGHT starring Michael Keaton and Rachel McAdams Mark Ruffalo, Rachel McAdams, Liev Schreiber. Directed by Academy Award-nominee Tom McCarthy, SPOTLIGHT is a tense investigative dramatic-thriller, tracing the steps to one of the biggest cover-ups in modern times.
WOW! Luv the movie.
FEELIN' GRATEFUL
A huge thanks to ELLEN and her team for inviting my TINA!
Super thanks to the Ellen crew for taking care of me and Steve!
Our wonderful gratitude to Ruben and Janet Nepales!
Our warmest thanks to Justin and Geetha for driving us around and keeping us company!
My unforgettable ELLEN EXPERIENCE is my HAPPY THANKSGIVING gift to all my family, friends and supporters! I LUV Y'ALL! MWAHSSSSS!