Joey Awards 2017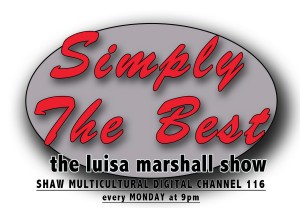 Simply the Best – The Luisa Marshall Show
Every Monday at 10:30am & 9:00pm primetime
On SMC Shaw Multicultural Channel 116
ALL NEW – Simply the Best – The Luisa Marshall Show:
Airs on Monday, December 4, 2017 at 10:30am & 9:00pm on SMC
Digital Cable Channel 

116 – Vancouver, BC

Analog Cable Channel 51 – Delta, BC

Cable Channel 89 – Calgary, AB
On the Show:
Special Highlights of the Joey Red Carpet interviews.
Special Highlights of the 4th Annual Joey Awards Ceremony.
Special Interview with Ria Jade.
Video Feature of Ria's award-winning video "SNOWFLAKES".
ALL NEW – SIMPLY THE BEST Season 9!
GET INSPIRED: Celebrating Young Canadian Performer, Joey Awards 2017
Simply The Best takes you inside the 4th Annual Joey Awards 2017 – Red Carpet and Awards Ceremony at the Sheraton Ballroom. Young Canadian actors, filmmakers and performers were recognized for their amazing work.
One of the highlights is the recognition of Canada's first gender fluid child performer Ameko Eks Mass Carroll. Ameko was born male but he takes on roles for both as a male and a female.

Also, we are also happy to have a Simply The Best moment with award-winning singer, songwriter, TV host, humanitarian Ria Jade. So many young aspiring talented Canadian artists in one room. There were 89 categories from Best Monologue to Best Actor.
"Acting is not about being someone different. It's finding the similarity in what is apparently different, then finding myself in there."


– Meryl Streep
Photos
Simply the Best – The Luisa Marshall Show
Season 9 – Episode 5
Joey Awards 2017
Previous Episode: Get Involved: End Labour Trafficking and Human Exploitation
Next Episode: Get Inspired: Songs with Purpose