Get Involved: End Labour Trafficking and Human Exploitation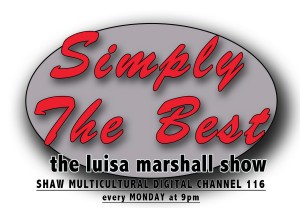 Simply the Best – The Luisa Marshall Show
Every Monday at 10:30am & 9:00pm primetime
On SMC Shaw Multicultural Channel 116
ALL NEW – Simply the Best – The Luisa Marshall Show:
Airs on Monday, November 27, 2017 at 10:30am & 9:00pm on SMC
Digital Cable Channel 

116 – Vancouver, BC

Analog Cable Channel 51 – Delta, BC

Cable Channel 89 – Calgary, AB
On the Show:
Highlights of former US Congresswoman Velma Veloria's speech.
Interview with Velma Veloria.
Special Highlights of  End Labour Trafficking and Exploitation.
ALL NEW – SIMPLY THE BEST Season 9!
Millions of Temporary Filipino Workers are victims of Labour Trafficking and Exploitation in Canada, US and all over the world. Labour trafficking and abuse is happening everyday. It is happening right here in British Columbia. The West Coast Domestic Workers Association and Migrante BC have recently joined forces with the Lawyers Rights Watch Canada and the Vancouver & District Labour Council to make an awareness on the exploitation and trafficking in BC in an event held at the Fraserview Banquet Hall.
The event keynote speaker was former US congresswoman Velma Veloria who spoke about labour exploitation and the importance of awareness to help the victims. She was also instrumental in passing a law that made human trafficking a crime in the US. MLA Mable Elmore also recognized the courage and strength of former live-in caregiver and victim of human trafficking, Leticia Sarmiento, that paved the way for others to report their unfortunate situations.
We need the community to be more vigilant and see warning signs of exploitation. To help victims of trafficking, please go to www.wcdwa.ca for more information.
"Our lives begin to end the day we become silent about the things that matter."


– Martin Luther King, Jr.
Photos
Simply the Best – The Luisa Marshall Show
Season 9 – Episode 4
Get Involved: End Labour Trafficking and Human Exploitation
Previous Episode: Get Inspired: Filipino Hollywood Designer – Oliver Tolentino
Next Episode: Joey Awards 2017