On Spotlight:
Artifacts of Freedom (Part 2)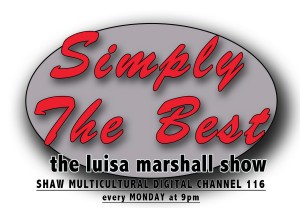 Simply the Best – The Luisa Marshall Show
Every Monday at 10:30am & 9:00pm primetime
On SMC Shaw Multicultural Channel 116
ALL NEW – Simply the Best – The Luisa Marshall Show:
Airs on Monday, December 5, 2016 at 10:30am & 9:00pm on SMC
On the Show:
Interview with Chuck Lochel.
Highlights of Nutana world war artifacts and memorabilia.
Proud Mary highlights – Canadian PTSD Awareness show in Nutana Legion.
ALL NEW Simply the Best Season 8!
On Spotlight!
We're taking y'all to Saskatoon, Saskatchewan where we stopped for a couple of days during our Hope Beyond Thunderdome Tour 2016 raising Canadian Veterans PTSD Awareness. We were so grateful to have successful shows there and met some amazing people. One of them being Chuck Lochel, originally from Philadelphia, who served 8 years in the US air force during the Vietnam war. Chuck was generous enough to show us the artifacts and memorabilia inside the Nutana Legion Museum.
Super Shout Out: Thanks to Chuck, his wife Joan, to the wonderful staff of Artifacts of Freedom and Nutana Legion Branch 362. Shout out to John and Evan. Global TV News and CTV News, many many thanks for the interview. To the people of Saskatoon, we luv y'all.
Photos
"How important it is for us to recognize and celebrate our heroes and she-roes!"

– Maya Angelou
Simply the Best – The Luisa Marshall Show
Season 8 – Episode 06
On Spotlight: Artifacts of Freedom (Part 2)
Previous Episode: On Spotlight: Artifacts of Freedom (Part 1)
Next Episode: Get Involved: 3 Meaningful Events in One Show! Earthquake Preparedness, Filipino X'Mas Lunch, Temporary Foreign Workers Solidarity