Disrupting Vancouver & On Spotlight: Gary V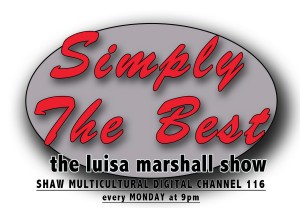 Simply the Best – The Luisa Marshall Show
Every Monday at 10:30am & 9:00pm primetime
On SMC Shaw Multicultural Channel 116
ALL NEW – Simply the Best – The Luisa Marshall Show:
Airs on Monday, November 13, 2017 at 10:30am & 9:00pm on SMC
Digital Cable Channel 

116 – Vancouver, BC

Analog Cable Channel 51 – Delta, BC

Cable Channel 89 – Calgary, AB
On the Show:
Special highlights of Disrupting Vancouver.

A sneak preview of the 14th Filipina Leadership Global Summit

On Spotlight: a special performance highlight of Mr. Pure Energy: Gary V
ALL NEW – SIMPLY THE BEST Season 9!
Filipina women around the globe are daring to lead in the most amazing way. Empowering and inspiring. Mentoring kababayans through a book series, "Disrupt" and "Disrupt 2" that tells the heartwarming stories of successful Filipina leaders around the world. They are proud, loud and leading without a doubt.
Most of the authors are also the FWN's (Filipina Women's Network) "Most Influential Filipinas". The Filipina Women's Network, founded by San Francisco based Marily Mondejar, was conceived in the United States at the 2006 Filipina Leadership Summit to honour Filipina Women who are facing the challenges of their own personal battles in their own local communities and in their adopted countries.
Disrupt Vancouver in collaboration with the Philippine Consulate in Vancouver took the community by storm in an effort to make an awareness of the FWN's advocacy and to look for more Filipina leaders and movers who can participate and mentor in FWN's Annual Filipina Global Leadership Summit in Toronto.
We were also lucky to catch Gary V's concert in Vancouver. We are happy to share the special highlights of his performance. Our warm thanks to Audrey Lim, Pinoy Dragon Mart and AGL Productions.
"This is the age of disruption."


– Sebastian Thrun
Photos
Simply the Best – The Luisa Marshall Show
Season 9 – Episode 2
Disrupting Vancouver & On Spotlight: Gary V
Previous Episode: Music For Mental Health – Season 9 Premier!
Next Episode: Get Inspired: Filipino Hollywood Designer – Oliver Tolentino