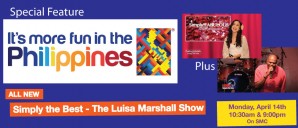 ALL NEW – Simply the Best – The Luisa Marshall Show
On the Show:
CREATING LIFETYLES with Simply Fabulous Zenia Marshall.
A SPECIAL FEATURE on Philippine Tourism Promotion event in cooperation with the Philippine Consulate of Vancouver… It's More Fun in the Philippines!
ON SPOTLIGHT an awesome performance by Henri Brown from his show A NEW CHAPTER at the Columbia Theatre
Happy, happy Monday! Simply the Best is so grateful to have been invited to the Philippine Tourism promotion event with the Philippine Consulate of Vancouver held at the Four Season Hotel in Downtown Vancouver. It was FUN to talk to Consul General Neil Frank Ferrer and other well- known members of the Filipino Canadian community. YES, it's more FUN in the Philippines!