Tina Turner Tribute – Luisa Marshall
Reviews
" I would like to congratulate you for such a wonderful performance you did on stage at the Oprah Winfrey Show….it was great seeing Tina's expression on her face watching you perform to "Simply The Best!"… Tina was amazed!!!… she asked several people who is that performing… Luisa, it's an honor to call you a friend… something I will always treasure… What a treat for you & I performing on the same stage as Tina on the # 1 talk show Oprah Winfrey Show…Best wishes to you…. You're Simply the Best!!!"

Larry Edwards
Proud Larry, #1 Las Vegas Tina Turner Impersonator, La Cage
"..I had to stop and think for a second that that is NOT really Tina performing. I have seen MANY people impersonate Tina Turner, but the video was enough to put me in MAJOR shock. I actually got to perform with Tina Turner on her last tour, 24/7. It's a long story how it happened, but seeing the dancers on the video and getting all the moves is AMAZING!…"

Donovan Clay
Dallas, Texas
(Donovan Clay had seen Tina Turner live in 25 concerts in a row in different cities. He eventually got noticed and called on stage by Ms. Turner herself. To read about Donovan's Tina Turner experience click here.)
Hi Luisa & Steve,

I just wanted to thank you soooo much for coming to Strut this year! You did a great job, getting the crowd dancing and having fun! I really appreciate your help and your positive attitude is very refreshing. You are a pleasure to work with.

It was so nice to meet you both! I just couldn't resist getting up on stage dancing with my co-workers… ; )

Thanks again, you rock! : )

ALANNA KOSHLAY
Marketing Coordinator, Coquitlam Centre, April 7/09 – Strut a Spring Fashion for a Cause
"Amazing night! Luisa Marshall had the entire audience singing, clapping, and laughing. By far one of the most entertaining and interactive performances we have ever held in the Show Lounge. We had people begging to get in after selling the show out days before, buy your tickets early to avoid disappointment! Luisa is one lady you don't want to miss!"

Amanda Chandler
Event Coordinator
Treasure Cove Casino
 Dear Luisa & Steve

What a wonderful event the 39th annual Heart Awards Dinner was – thanks in part to your sponsorship! On behalf of the Dinner Committee and Variety – The Childresn's Charity of British Columbia, lease accept our sincere appreciation of your contribution of entertainment and sound system for the evening. Everybody was blown away withgery and enthusiasm of the show – and we are delighted to welcome you to the Variety family!

From all reports we have, it was the best Heart Awards Dinner ever! WE hope that you get some measure of satisfaction in knowing that you are helping Variety recognize and celebrate our volunteers and fundraisers who have helped make this organization so successful.

Thank you again for your contributions to a very successful event and a most enjoyable evening.

Sincerely,

Bob Stewart – President
Anne Crittenden, Chairman of the Board
www.variety.bc.ca
Variety – The Children's Charity

Inspiring hope, enriching lives, and building a better future for BC's children
"…we tried so hard to get Tina Turner on my show, you have no bloody idea how hard we tried to get her….we could have had that wonderful woman (Luisa Marshall) and we could have faked the whole bloody thing. They would have never known the difference…"

Vicki Gabereau
The Vicki Gabereau Show, Host CTV Television

(Part of Vicki's acceptance speech for her Woman of the Year Award at the Spotlight Awards Gala 2005, Gala evening celebrating the achievements of Canadian women in film, media and entertainment technology.)
"Luisa brought energy to the auction. Our guests were clapping and cheering from the moment she stepped in the room. The "Simply the Best" auction took off the minute she started and when it was over, the Boys and Girls Clubs of Bellevue was the winner! We raised over $400,000. My only problem now is, how to top that next year? Many thanks to Luisa. You are "Simply the Best"! "

Brigid Graham
Director of Development
Boys and Girls Club, Bellevue Washington

(After Tina Turner Tribute Artist, Luisa Marshall, performed for their celebrity guests including Lenny Wilkens (3 time inductee of the Naismith Memorial Basketball Hall of Fame and 2nd all-time winningest coach in NBA history) and Edgar Martinez (retired MLB third baseman for the Seattle Mariners).
Hello Steve & Luisa,

WOW – we are SO thrilled with last night's event and so thrilled with Luisa's performance! Luisa – you truly put on a great show. I have been doing this event for six years and I have never seen our guests on their feet and dancing! Thank you so much to both of you for taking the time out of your busy schedules to be a part of the Big Sisters Divas Gala – our guests can't stop talking about how great it was to have "Tina" in our midst! We raised a record $165,000 for our mentoring programs and services last night, so we are all so happy with how the event turned out as many young girls will benefit as a result. I wish you all the best all you continue to our around the continent and I hope we have the occasion to meet again in the near future.

Sincerely,

Lisa (O'Neill) Cloutier
Director of Operations
Big Sisters of BC Lower Mainland
"Luisa, you were definitely the hit of our fabulous event last Thursday evening! You will see from the photos mentioned below you had the entire crowd rockin'. What a smashing finale to a dynamic evening! We loved you… your energy… your talent… your generosity of spirit in pulling the two guests onto the stage with you…. your fabulous voice and… those legs! My soon-to-be son-in-law was so jealous that the "more mature" men were on stage with you! You gave our guest a memorable send off at the close of the evening and they are clamoring to come back to another UNICEF function… an events planner dream. Many guests have asked how to get in touch with you. Thank you for contributing so much to help educate some of the world's most vulnerable kids….."

Shirley Kepper
Regional Director, UNICEF British Columbia
Hi Steve & Luisa…thank you so much for making our gala last Saturday a resounding success! Thank you also for asking your friends, Retrospect, to sing a few songs – they were a hit! Everyone can't stop talking about you – you really, really made our evening memorable. I hope our paths cross again!

Deborah Nicols
Former President
www.bastonefoundation.org
Charitable Registration #87096 0606 RR0001
Childhood Cancer – the Cure is Ours to Discover
"…It was a great evening at the Hilton Vancouver Airport celebrating the "Hilton Connie Award" which recognized the hotel as the best in the Hilton system. The conclusion of the evening with "All Hail the Queen"(Luisa Marshall) was simply superb. Luisa's energy level, enthusiasm, and portrayal of this great performer was well beyond our expectations. Going forward, the "Tiny Tina Show" will be highly recommended by Hilton Hotels Corporation. Extremely well done. All the Best!"

Robert E Dirks
Senior Vice President
Hilton Hotels Corporation World Headquarters
April 6, 2009

Dear Luisa,

Your performance at the Weekend to End Breast Cancer fundraiser was awesome. The public was ecstatic as you performed your magic. I cannot recall any of our past events where an artist captured the audience with such power and delight. Your tribute to Tina Turner was superb as only a great singer such as yourself could deliver.

Thank you for donating your time and talent to this great cause… your help is greatly appreciated.

On behalf of the Cancer Foundation I want to extend my heart-felt appreciation for making this evening unforgettable.

Clementina Ciamarra
Fundraiser Producer
www.endcancer.ca
"I was referred to you by Lisa Cloutier, Director of Operations at Big Sisters of BC Lower Mainland. I am a Big Sister and the President of the Board of Big Sisters. I was in attendance at our DIVAS Gala last month where Luisa thrilled our guests. She was absolutely sensational!!"

Deborah Nicols
President, Giovanni Bastone Foundation
"Luisa, you are a charming lady who by your exceptional songs, your smile, and the voice of "Tina" it has been a great… great moment of the show. And thanks to you, our troops had a good laugh while I was dancing with you on stage. But the most important, you gave us the chance to see a talented Luisa!! Many thanks."

Gaston Tsibucas
Camp Sergeant-Major "Maple Leaf Campus"
Zgon, Bosnia July 20, 2004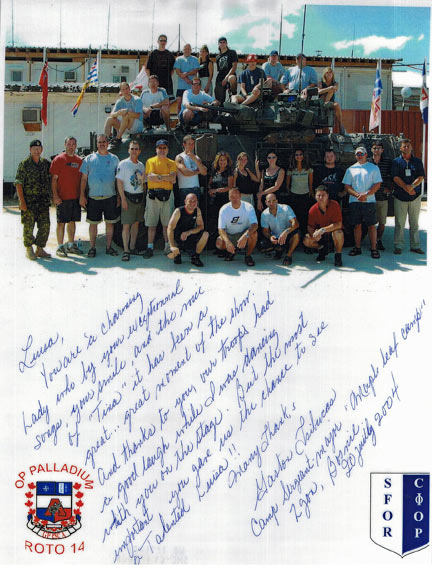 (Global BCTV NewsHour featured Luisa as Tina Turner on her Oprah experience.)

"She looks a lot like her ( Tina Turner )." – Deborah Hope, Anchorwoman

"She does, doesn't she? That's pretty good!" – Tony Parsons, Anchorman (his answer to Deborah Hope's comment)
"… Look at you! You look exactly like Tina Turner… You look amazing."

Paul Schaeffer
Musical Director/The Late Show with David Letterman
"… from the voice, to the walk, to the shimmy… It's like watching the real Tina Turner."

Gloria Macarenko
Anchorwoman, CBC News: Vancouver
"Luisa (All Hail the Queen!) is Amazing! She really captures the essence of Tina Turner. Better than all the rest!! She's Simply the BEST!!!"

Larry Edwards
"Proud Larry" Top Tina Turner Impersonator
(Larry Edwards has appeared in Tina Turner's movie "What's Love Got to Do With It")
"Had to convince people she wasn't the real Tina Turner! She was a stick of dynamite on stage and brought an energy level in the audience to be proud of. Her contribution to the OP Palladium Showtour July 2004 ensured it's success and will remain in the memory of men and women on that roto forever."

Denis Trottier
Escort Officer and Regional Manager Human Resources (Ontario)
We had the pleasure of seeing you perform at the Shopkorn Birthday Party in NYC on January 12th..and you were outrageous!!! Everyone really enjoyed your performance and you added a tremendous amount of excitement & energy to the entire party!!

Gary Krupnick, Melville, NYC
"…People are still talking about the fabulous show you gave.. So many have said.. "We still do not believe it was not the real TINA and we are going to keep thinking this way!" –

Tracy Shopkorn
New York City, New York
"Luisa Just a quick note to let you know the feedback from our members for your performance last Saturday for our Tennis Opening Party was Wonderful. It is always great when the members talk about a party or function for days (and days) afterwards. You have an amazing talent and presence which really lit up the party. We could have rocked all night. Wishing you all the best with your career and hope to see you perforn again sometime soon – maybe even back here!! "

Lorraine Duncombe
Tennis Centre Coordinator Shaunghnessy Golf & Country Club
"I saw Luisa perform at a Big Sisters event and was so impressed. It would be wonderful and greatly appreciated if you can help us for the evening by having Luisa Marshall perform for us. Ultimately, your support will increase our ability to inspire hope, enrich lives and build a better future for BC's children." –

Keith Browne
BC Variety for Children
"Out of the 70 contestants I have for the 1st World Rock and Roll Tribute Artist Competition I put Luisa as the Finale for the "Legends Show". She has the most energetic and powerful show."

Bill Cann
President of the National Association of Performing Tribute Artists, Event Creator and Director of Entertainment for the World Tribute Artist Championships, Creator of the Canadian National Elvis Tribute and Convention in Collingwood, Ontario.
"Luisa Marshall looks more like Tina Turner than any other act I've seen…"

Les Voght
Legends of Rock and Roll Founder/Producer
(The first person to book Tina Turner in Canada)
"It's like watching the real Tina Turner concert including choreographed dancing and the big band. Definitely the most complete Tina Turner tribute show I've seen in Las Vegas."

Boyde Paguio

Las Vegas Enterprise Band
"..Luisa (All Hail the Queen) blew me away. Loved the show…"

Al Lampkin
Al Lampkin Entertainment
(Mr. Lampkin has seen Luisa perform at the Imperial Palace, Las Vegas)
"…If there are any agents in Britain reading this, Now, is a chance to bring over a Tina Tribute that not only looks and sings like Tina, but can produce a show that everyone will want to go and see, especially now that the real Tina has retired … This is the time to take advantage to see her double in action.. and reminisce if you ever saw the real Tina on stage."

Anita Welsh
Columnist/TalentStar.biz
"…Your group got rave reviews. Everyone had a great time!."

Dr. Eli Markovich
Calgary, Alberta
Dr. Eli Markovich flew the entire show to Calgary for a special Jewish wedding.
Dear Luisa

Wow! You, your dancers and band are great. Your recent performance for our company was very well received. Your music was entertaining but your personal effor to connect with the audience was superb. I received many compliments on the performance and folks felt like you were the real "Tina Turner" when you were on stage right down to the dance and head motions.

Luisa, not only was the performance great, but it was a pleasure to work with your crew. From set up to break down professionalism reigned. I am sure you know that talent, especially music talent can be a challenge to work with. You and your staff conducted all of your activity in a cooperativeessional manner. Your set up guys were cooperative with both my staff and the hotel staff. We were both pleased and impressed

I can say without question we received our money's worth. The entertainment was a good dollar value and I will gladly recommend you to others.

I hope your musical tour in Alberta, Florida and Amsterdam go well. Our thoughts and prayers go with you for safe travels. Again Accept our many thanks for the memories you created for our group

Personal Regards,

Julius J. Anderson
First Heartland Corporation
Lake Saint Louis, Missouri
(May/08)
"Hi Luisa, thank-you again for a wonderful show and for the opportunity to actually meet you! It was a real thrill to meet an entertainer of your calibre, you have a great sense of people and business. The "Big Night-Out Band" was great, the dancers superb and you've all worked very hard to make your review a resounding success.

I wish for you all continuing happiness and good fortune, and I hope we get another chance to enjoy your show one day soon.

Good luck Luisa and company!"

Art Harvie
City of Surrey, Engineering Dept.
Spatial Information (GIS) Section
(Art Harvie went to see Luisa's show at the PNE, Vancouver, Sept. 4, 2004)
"We used Luisa Marshall and Big Night Out for our annual employee Christmas Dinner and Dance. At these events the wrong band can cause early departures, empty dance floors and a general lack of a "special night feeling"…….. Happily that was not the case for us this year. The Tina Turner show provides an excellent transition from dinner to dancing as the show is as much worth watching as dancing to, it breaks the ice and sets the mood. The following dance set fills the dance floor and the two dancers on stage add a real sparkle to the show. The very long sets also enhance the attendance as band break times tend to be points where people leave. They are great value and transform what can be a stuffy short social evening into a lot of fun for the full age range found in your typical corporate office."

Russel Horner
CO, Catalyst Paper
The 10th annual fundraising event for the BC Children's Hospital Foundation, Ik Shandar Shaam on Friday May 5th was a tremendous success.

It was a glorious evening filled with lots of fun, great food, dancing and a real showcase of local entertainment . "Tina Turner" was a great hit with the approximately 650 attendees. You totally had the crowd on their feet and engaged. I'm pleased you took it easy on the "volunteer background dancers", of which I was one. I had a wonderful time and can really appreciate the high energy you need to put on your show .

Pauline and I hope you had an enjoyable time too. The entrance was very nice with the RCMP escort. We want to thank you for your support. I will have the BC Children's Hospital send an letter of thanks too, and when the photo's are ready will send you copies.

I don't have a total of the funds raised yet, FYI The cheque presentation will be between noon and 1pm on Sunday June 4th on the Children's Miracle Weekend on Global TV.

Once again thank you for helping make this evening truly special and success for the BC Children's Hospital.

Best wishes

Andy Basi

(Andi Basi was the organizer for the Ik Shandar Shaam. The 10th annual fundraising event for the BC Children's Hospital Foundation)
The tour de force performance of Luisa Marshall's "Tina – A Rock 'N Roll Journey" was a night to remember, for all. The amazing production was so richly textured and vastly entertaining. A very vibrant energy was pervasive throughout the entire event, from the pre-show buzz to the photo-op after the show.

The production value is second to none , with impeccable attention being evident at all levels, from the effective use of multimedia, lighting affects, costuming, and choreography, etc.

Now lets get to the very core of this magical night, the talent on stage. The depth of talent has to be seen to be appreciated, because there is a genuine passion and joy in all the performers. Luisa's performance encapsulates the phenomenon of Tina so well that only one word seems to fit – authentic. With the uncanny look, vocals, style, and vitality of Tina, Luisa is in her own right, phenomenal.

Now add to the mix her amazing supporting cast and crew and what we have here is an unforgettable event. The eight dancers, are such a treat for the senses. Obviously all are deeply talented, but it's their impressive energy and passion during the performances that added the very dynamic and dramatic dimension to the show. The accompanying band of five very talented musicians; lead guitar, bass guitar, sax, keyboards and drums, provided the sight and sound dimension.

The lighting effects and multimedia projection which did so much to set the mood and tone throughout the full two hour performance was wonderfully engineered by none other than Steve Marshall.

Finally ,there was still another component to the magic of that night, the audience. Like Tina, Luisa also reaches out to the audience and the appreciative crowd returns the favor. I had a unique position of being able to be wherever as the photographer, so I got close and personal, from all perspectives. I could see, feel, hear the joy from the audience; its in their eyes, smiles, and thunderous applause after each number and even at the beginning of some. I could also observe the same joy and gratitude on all the performers in response. It was a very positive and joyous experience and to borrow from a song title, "Simply The Best".

Tom Young
Tyoung Impressions
1) I wanted to pass along my sentiments again in regards to the show in Campbell River Saturday night… it knocked my darn socks off!!! I've lived in Campbell River for 8 years…and have attended (and performed in) many shows over the years at the Tidemark. I've seen several big name entertainers there, and a couple of high quality tribute shows (including ABBA-mania) and I've never witnessed a show like Luisa's, or such an audience response! Thanks again to the whole gang for putting on an amazing performance that a lot of us are still talking about (in fact, I'm about to mention it on the air in 2 minutes…on The Eagle 97.3 FM…plugging your December show in Courtenay too)!

2) I was hoping to get an e-mail copy of the photos you took of myself (the guy with spikey hair in the leather jacket), my wife, and Cheryl (who interviewed Luisa for CRTV earlier in the day). You can zap 'em to this address!

Thanks in advance,

Ryan Mennie

www.973theeagle.com
"Wow….L-O-V-E-D it! Luisa was amazing and her dancers were incredible!

101.5 Silk FM Kelowna
Hi Everyone,

I wanted to thank you all for a fantasic night when you sang in williams lake. It was a dream come true. Never did I ever think I would be able to see Tina Turner sing and that was a dream of mine . Then we see you all in the news paper and that you are going to sing and I jumped for the chance. Then I can sit in the front row? Wowwwwwwwwww. And then you give me the mike so I can sing a line ,oh wowwwwwww. And then you sing Simply the Best which is my favourite song . And I get to sing the line on the mic of Simply The besttttttttt. I still cant believe it. You are were so fantastic. Great singing, great dancing and you loved us as an audience. Oh such great singing. Best show I have ever seen indeed. Im so glad you all signed my picture and it will be treasured for sure and if you ever come to williams lake again ,you can bet we will be there again and in the front row too,cause I will runnnnnnnnnnn to get there lol.

My husband took a picture of me with you Luisa and I will treasure that for sure. What an honour to see you all perform. thankyou all again so much for a grand night . I still shake my head and say Oh Lord Thankyou so Much. I had a ball. Keep up the great singing and performing cause you all are so good. I hope one day Tina Turner see how great you all are and that you go somewhere and when I see you all on tv I will say I saw you and hugged and clapped for you all too. Wonder if I will ever come down off cloud 9 ,lol. My name is Linda and I sat right beside the stairs and stood up and danced to simply the best too,lol. I will at the stairs to your left if that is any help. But, Im sure you dont remember as is understandable ,but, thought I would try . I have kept you long enough, so do take care and God Bless You All.

Love Linda
Steve:

I'm sorry we never got a chance to meet at the ACT on Friday. I was there with some guests – people from 10 years old to 60 – and everyone had a great time! Your lovely wife is a dead ringer for Tina from where I was sitting, and she certainly won the crowd over with her sincere portrayal………… I just received an email from a contest winner thanking me for her tickets. That doesn't happen very often, and as I said , everyone who came as my guest truly enjoyed every minute of the show.

Good luck with future shows

Jim Coulter, Publisher – The Maple Ridge News
Luisa is amazing as Luisa!! How do you keep up with her energy? Thanks again. I am still being bombarded with rave reviews. Several people opted out of the party this year because the bands have not been so good since you last performed for us. These people are very upset this morning when they have been hearing how great it was.

Heather Upton-Brown

(Upon her response from Luisa and Big Night Out performing for their Christmas party Dec 2006 at the Pan Pacific)
Hi Luisa

What a great show you put on this evening in Vernon – so much energy, fun and great choreography. I am sure the dancers, the band and yourself deserve a holiday after performing since January. I remember watching Tina on TV when she sang with Ike. Your resemblance to Tina is spot on. I also remember when the Rolling Stones were Tina's warm-up band when The Stones first visited the US.

If you haven't toured in Alberta, the Calgarians would love your show.

Keep on rocking Luisa,

Pamela
Hi Luisa and Steve.

Most of the School District #36 (Surrey) purchasing department was in the front row of last night's performance as was I.

The new show is fabulous! Thank everyone for a spectacular performance and an incredible evening of superb entertainment!!!

'simply the best' says it all!

Ps…My hands are still stinging from clapping so much and my voice is just now returning from singing with Luisa!

Cheers,

Helen A. Doucette

C.P.P.,C.P.M.
LAST NIGHT WE HAD THE HONOUR OF SEEING LUISA MARSHALL HERE IN SURREY BRITISH COLUMBIA, CANADA. WHAT A SHOW. UNBELIVABLE. WILL SHE BE DOING ANOTHER SHOW AROUND THIS AREA? IF SO, WHERE AND WHEN??

CHUCK MACINTOSH
My wife and I in our early 70s have just returned home from the evening in Sidney with Luisa Marshall and her dancers and band.

We are exhilirated and still excited about the total performances of everyone! What a great talented group of performers and musicians.

Sidney was rocking tonight!

"Tina" was particularly charming to the spectators and described her group's tour from Powell River and on to Vancouver. What a demanding schedule.

I wish we could show them all Sidney-By-the-Sea as they didn't have time to see our area.

Please convey our thanks to all concerned. It was wonderful.

Greg and Pat Stevens from Sidney BC on Vancouver Island
Hi Luisa,

I am really impressived how your performance was done in trail B.C. this year, all the people in town were talking about you and your team for a month.

I hope you come back very soon, please let me know in advanced so I will make sure that I can get the tickets for my whoe family.

Congratulations.

Fredy Castro
My I take this opportunity to congratulate you on a phenomenal performance staged at the Centennial Theatre on January 26, 2007 in North Vancouver. The energy, passion, and your ability to touch your audience at their core, Luisa, is a trait that is truly seen only in performers that are simply the best! Steven, your managerial behind the scenes dedication, commitment and attention to detail were exemplified in the show's fluidity, expression and evident successful result.

May I extend to you much success in your future endeavours and may God bless you for providing a way of touching people's hearts!

Yours in health,

Dr. Peter W. Mulyk
"Dear Steve & Luisa: The Lady in Red party was a huge success and the 260 women who attended are still talking about what a fantastic time they had!! Luisa rocked and her performance was outstanding. The women who attended loved being up on the stage with Luisa and her ability to get the audience to participate really added to the show. Believe me, this event will be the talk of the town for a long time! I have had several requests for your contact information so I'm sure you will be back in this area soon. We netted $9,000 for the local Boys & Girls Club – the event sold out way back in July so it really was a huge success. Again, our sincere thanks for putting on such a great show. It was a pleasure working with you and I will look for other opportunities to have you back in the Comox Valley. "

Sincerely,

Judy Atkinson

Event Co-ordinator
"I recently had the pleasure and opportunity to catch a great group at the Central City Brewpub in Surrey. "Luisa Marshall with her Big Night Out Band and Hotleggz Dancers", an awesome performer and extraordinary consummate entertainer. I enjoyed sharing the stage with you guys. Keep on rocking the world with your love. Luisa – you're the best!"

Riley Inge

(Formerly of The Temptations)
To Whom It May Concern;

While employed with the Canadian Forces Personnel Support Agency (CFPSA) as a Show Tour Escort Officer in support of the Middle East Show Tour (7 – 17 Dec 05), I had the privilege of working with Luisa Marshall. The mandate of the CFPSA Show Tour is to contribute to the morale and welfare of those Canadian Forces members serving abroad. While in Theatre, Luisa performed as part of the Show Tour in both Camp Calumet (Egypt) and Zouani (Israel). In addition to her highly professional and friendly demeanour, Luisa paid particular attention to the unique cultural differences that existed within the audience and catered to those needs/sensitivities. This certainly heightened the experience for all in attendance as they felt as though she didn't just come to entertain, but to truly give the audience an experience from her heart. This was apparent when speaking to the military members during the social gatherings, which took place after these shows. They couldn't thank Luisa enough for her performance and how much it had affected their attitude, lifted their spirits and encouraged their own fond reflections of Canada, home and family. Luisa always took the time to interact with the Canadian Forces members at each Camp in hopes of letting them know that we were more than pleased to be there, make them smile and pass the word that Canada truly appreciates their commitment to our peace and the fact that they were there at an especially hard time of year.

Sincerely;

Lori Watts

Personnel Support Programs Manager
Hi Luisa,

My wife and I and some of our friends were at your show Saturday July 18 at the Surrey Arts Centre, for the 4 p.m. matinee. We were in the front row and you very graciously let me sing a few lines of "The Best" with you. Thank you for that! As a long time musician/ entertainer, I go to as many concerts as I can make, as I love the energy of live shows. I have always been a little reluctant to see impersonator/tribute acts; possibly because of the saturation of Elvises. But you are more than just a tribute artist … Luisa, you are an extremely talented and gifted performer. Your show was incredible, and far more entertaining than some of the shows we've seen featuring some so-called "big names" in the business. Good luck in all your endeavors and I hope we can catch your show again sometime soon. Simply put, "You're Simply The Best" !!

Sincerely, Peter Williams
AFTER COMMING TO THE SURREY ARTS CENTRE SHOW JULY 17TH AND 18TH.

Hey Luisa,

Your show blew me away… i wasn't really expecting it to be like what is was. It was fantastic. I have never seen anyone change outfits sooooo many times and sooooo fast and EVERY time coming out looking like exactly like Tina. It was incredible. My folks & I were just in awe how you were able to pull off that show. Please tell me you have a crew working back there helping you with those costume changes. Just craziness.

And your dancers were great. I was having fun "So you think you can dance" judging them!!! hahaha I must say Kyle Toy wins the award for best male dancer and i didn't catch the girls name with shorter curly hair… she was really good too and gets the award for best female dancer! Kyle could make a crazy Michael Jackson. He has some pretty crazy moves.

I mentioned to Steve quickly that I would like to come photograph one of your shows… I'm not sure if you know, but I do some photography… mainly sport action but I would be interested in coming to photograph one of your shows and give you all the photos on a CD. One of my photos is being printed on General Mills Cereal boxes: Cheerios, Fruit Loops, etc. probably some time starting in August.

Any ways… PLEASE keep me informed about your upcoming shows. I really want to see this Lady Gaga & Amy Winehouse act. It's too bad I'll be in Calgary this weekend, otherwise I'd be there too.

Keep up the great work.

Talk soon.

Brett