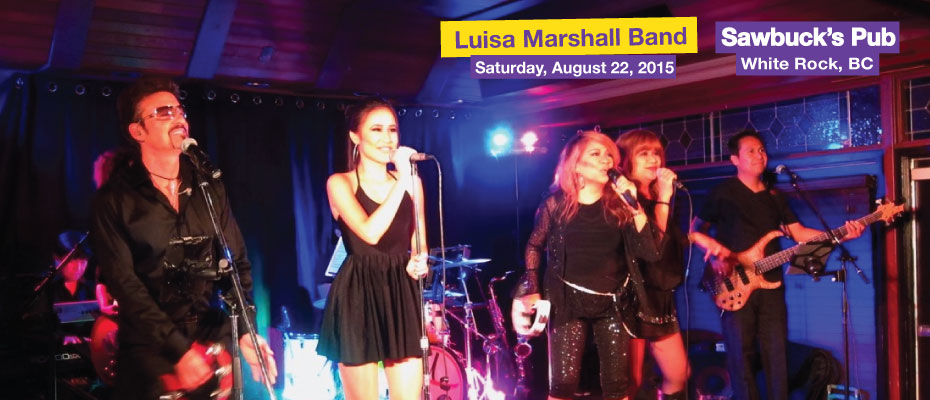 Luisa's Show Blog
WOW SAWBUCK'S! LMB SIMPLY ROCKS!  We never expected that the place was gonna be packed. That was our first time and guessed we gained new fans.
Sawbuck's patrons stood up and danced to all the familiar songs and some were just simply watching us. The thunderous applause warmed our hearts just as when we were starting to feel tired from the night before. Some LMB fans followed us from the Starlight. Haha!
Thanks to sound tech Kurtis Hannas for setting up the PA and did a great job with the sound. You made the band and the crowd happy.
The cool part… our 2 daughters Zenia Marshall and Kimi were rockin' with us onstage.
The best part… it was a special night for 2 LMB members. It was both their birthdays. Happy Happy Birthday to my sister/vocalist Tota Mendez and to our wonderful sax player, Dennis Tymoshenko! A birthday velvet cake during the break was simply the best.
Oh ya! Bill Pantazis' friends & siblings were in the crowd, too.
Sawbuck's Neighbourhood Pub
(August 22, 2015)
Date: August 22nd, 2015, Saturday
Time: 9pm-12:30am
Place: Sawbuck's Neighbourhood Pub
Address: 1626 152 St, Surrey, BC V4A 4N4
The Luisa Marshall Band is excited and ready to ROCK Sawbucks Pub on Saturday, August 22nd in Surrey/White Rock, BC. This is the first time that the band will be playing in Sawbucks. Showtime's at 9pm. Come early to ensure admission.