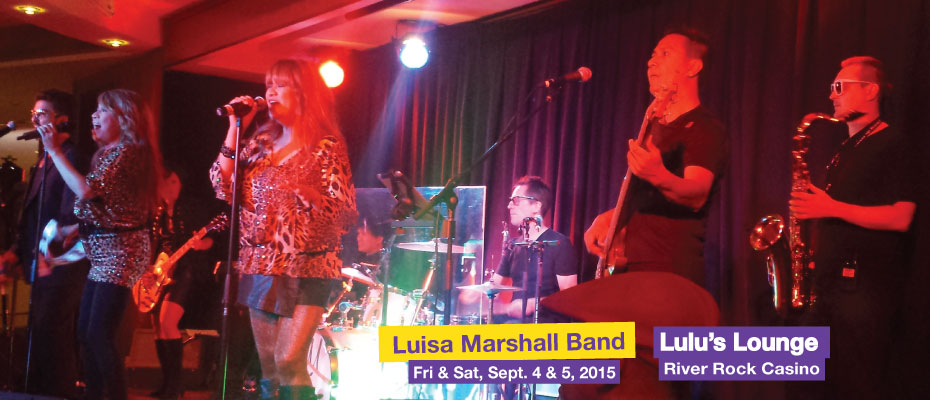 Show Blog
LMB'S ROCK N ROLL WEEKEND at LULU'S… another big hit!
Celebrating diversity through music is our passion! A blending of 5 different ethnicities… we sing, dance, laugh, eat & play music together in our own unique way. The result… POWERFUL!
WE ROCKED FRIDAY & SATURDAY NIGHTS! Never underestimate a group of talented musicians that promotes playing LIVE MUSIC in the midst of the crazy robotic backing tracks that is so popular nowadays. Been there, done that! There's no reason for this 8 piece band to be doing that. Maybe when we get really, really old and tired. LOL! But now… ROCK N ROLL RULES!
We were sooooo grateful to hear that there was a 2h waiting list to get in. Thanks to all our wonderful friends, fans and supporters! We love you all very much!
HITS OF THE NIGHT: Proud Mary, Uptown Funk, Le Freak, ABBA Medley, Simply The Best, Party Rock.
SHOUT OUT: to Carol and Shelly! They say they saw us rock our Tina Show at this year's Harmony Arts Festival out in West Vancouver and said that they're gonna be our newest, biggest fans driving all the way out to Richmond to watch our band! They were there the whole night from the first set to the very last song. Thank you! Mwah!
SUPER SHOUT OUT! To our beautiful friend Kerrie for celebrating her birthday at Lulu's on Saturday night. Her party started at 5pm til 1:30am. WOW!
TO OUR FRIENDS & SUPPORTERS! We can't thank you enough. Following LMB everywhere is super tiring! You guys are awesome!
We hope to see y'all again so please visit our website for the latest updates! Mwahs!
Lulu's Lounge @ River Rock Casino
Friday & Saturday, September 4 & 5, 2015
Luisa Marshall Band
Labour Day Weekend
Date: September 4th & 5th, 2015, Friday & Saturday (Labour Day Weekend)
Time: 9pm-1:30am
Place: Lulu's Lounge @ River Rock Casino Resort
Address: 8811 River Road, Richmond, BC V6X 3P8
The Luisa Marshall Band will be back rocking Lulu's Lounge at the RiverRock Casino in Richmond, BC on Friday & Saturday, September 4 & 5, 2015. The last time the band was at Lulu's they got so much love during the Valentine's weekend in February 2015. They're back and ready to pack the dance floor again for 3 straight sets!