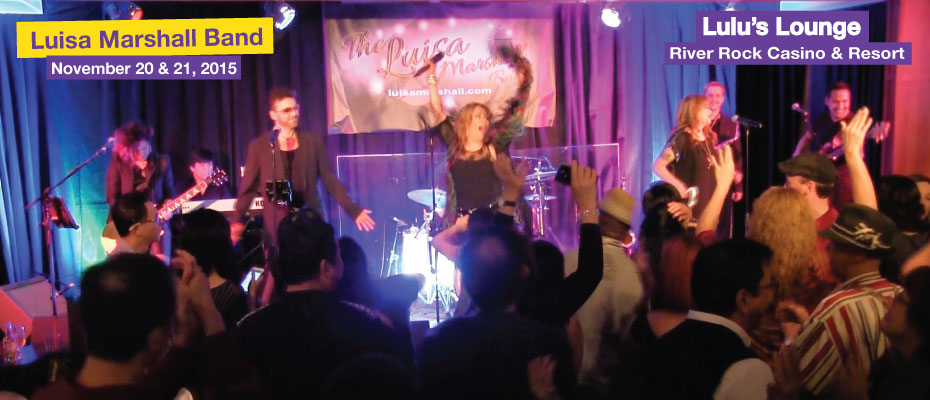 Lulu's Lounge @ River Rock Casino
November 20 & 21, 2015
RECOVERY WORKIN' MONDAY! Don't know what to say. Still tired from LULU's gigs last Friday and Saturday but really happy to see so many of our friends, fans and supporters. 2 packed evenings, dance floor so hot from start to finish. We met a lot of new people brought by friends and acquaintances.
We had a blast watching people just rockin' on the dance floor. Some people complained that the Lulu's dance floor is small. YES, it was pretty crowded but people were allowed to dance anywhere in the venue. It was pretty cool to see the whole place lookin' so alive. So many said that the band sounded so good. Thanks to our amazing friend, sound guy Kurtis Hannas.
There were people who couldn't get a table for a couple of hours but they managed to sneak in and dance. Pretty wild night with a guy following me around the room playing harmonica. He was playing X'mas tunes. Then he played again on the dance floor… this time giving him the mic for everyone to hear Happy Birthday tune. LOL!
Also, one cool LMB supporter Eileen Lim​ belted out Dancing Queen with us. She was happy to take this dream out of her bucket list. She did it! YES! What a fantastic weekend!
Thanks to all who rocked with us! Luv y'all!
---
Date: November 20th & 21st, 2015, Friday & Saturday
Time: 9:30pm-1:30am
Place: Lulu's Lounge @ River Rock Casino Resort
Address: 8811 River Road, Richmond, BC V6X 3P8
The Luisa Marshall Band will be back rocking Lulu's Lounge at the RiverRock Casino in Richmond, BC on Friday & Saturday, November 20th & 21st, 2015. The last time the band was at Lulu's they had 2 hour waiting lists to get in! They're back and ready to pack the dance floor again for 3 straight sets!