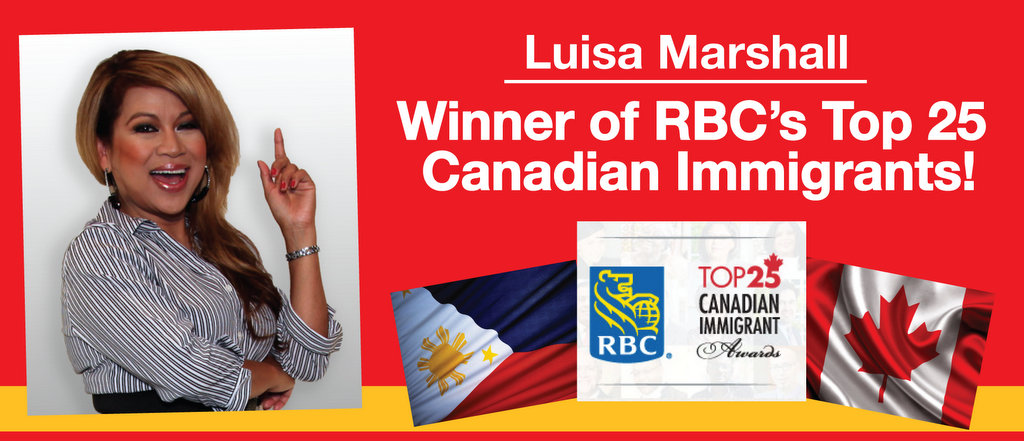 Luisa Marshall, 2013 Winner of RBC's Top 25 Canadian Immigrants
Thanks to all of your love and support, Luisa Marshall is a 2013 winner of RBC's Top 25 Canadian Immigrant Awards! The awards are given to inspiring individuals who have immigrated to Canada, and recognizes them for their talents, hard work and most importantly their positive and valuable contributions to their communities. Luisa stands alongside fellow award recipients, NBA All-Star and 2 time MVP champion Steve Nash and fellow kababayan Community Volunteer Leticia LaRosa from Prince Edward Island. Click here to view the full list of 2013 winners from the Canadian Immigrant website.
We'd like to thank the Royal Bank of Canada and it's panel of  judges for the recognition, as well as – of course – all of you for your support! Thank you!
From Luisa
I am deeply honored to be voted as one of the Top 25 Canadian Immigrants of 2013! To all my family, friends, supporters and fans all over Canada and beyond, thank you so much from the bottom of my heart for believing in me. I will proudly stand with other Canadians who persevered, sacrificed and struggled to make their lives better, continue to learn and make their commitment with love and dignity. Let's keep the dream alive! It's time for us to inspire and empower all newcomers that dreams do come true in Canada if you work hard, accept responsibilities, be consistent and be true to yourself. I will be forever humbled to continue to serve our beautiful Canada!
I share this award with all my family and friends, and to all the Filipino Canadians who are making an honest living while pursuing their passion.